We have transitioned all of our classes to an online/virtual setting to accommodate the COVID-19 pandemic. Classes are held via Zoom online and by phone. As always, all our classes are free to attend.
Available classes may have limited space and require registration.
Below is a full calendar of our upcoming classes. Click on any event for more details.
---
STRONGBODIES

2 class options:
Monday and Wednesday from 10-11:15am REGISTER HERE!
Tuesdays and Thursdays from 9-10:15am REGISTER HERE!
Join at any time!
Extension/FoodWIse is a participant in the national evidence-based StrongBodies™ program. StrongBodies™ promotes positive change in people of all ages to live stronger, healthier lives by providing knowledge, inspiration, access to programs, and ongoing support. StrongBodies™ envisions a worldwide community of people who are fit, strong, and healthy; in turn, these empowered people will become positive agents of change for their families, communities, and beyond.
Learn more about the program here.
Resources:
Strong Bodies Flyer
Home Safety Checklist for StrongBodies Participants
StrongBodies Exercises
Watch StrongBodies at home on PBS or YouTube
---
FOOD SMARTS
REGISTER HERE!

Classes are the first Monday of every month from 2:00-2:45pm; Join at any time!
Join us as we partner with the Extension Wood County Human Development and Relationships Educator, Jackie Carattini, to talk about nutrition, food budgets, food safety, food preparation and shopping tips.
Food Smarts Flyer
---
COOKING WITH KIDS
CURRENTLY ON HOLD
Learn how to cook & prepare healthy meals as a family. Classes include simple recipes, tips on healthy eating and lots of fun! Join your "kid in the kitchen" for fun with fresh fruits & vegetables & practical cooking tips. Series of four 1-hour classes. For parents & kids, aged 6-10.
---
SHOPPING & COOKING FOR HEALTH
CURRENTLY ON HOLD
Wondering where to start with meals? Looking for some tips on stretching your food dollars, while making meals the whole family will enjoy? Join us for a once a week for a 30-minute lesson. All participants are entered to win a Kitchen Basics kit! Kit including a skillet, storage containers, utensils and a cookbook.
---
SHOPPING MATTERS GROCERY STORE TOUR
CURRENTLY ON HOLD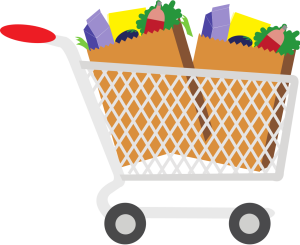 Looking to eat healthier, and save money too? Learn how to "shop for health". Tours include info on choosing healthy foods on a budget, the trick to item-pricing, and tips on reading food labels! Every participant receives a reusable grocery bag and a $10 grocery store gift card!